Sikkim has a dragon weather. Ever wondered why is Sikkim one of the most visited tourist place in the entire North Eastern India ? We will find out here and explore Sikkim in a grand way.
Sikkim is a land of various wonders . The Magnificient mountains , rich cultures and just no words about its enviromnent . It is a tiny pearl of a state , with population of 540,000 and covering just over 7,000 square kilometres . Yet within Sikkim's Himalayan boundaries , there are many worlds to discover . Yes , don't get carried away.
As you travel from Buddhist monasteries to Hindi Mandirs, or trekking from alpine meadow to cascading stones from the waterfall , visiting foggy cities all along the way . You will feel the entire nature is trumbling you while you breathe .
Cultural diversity is one of Sikkim's hallmarks , from the Dzongu indigenous Lepcha reserve in North Sikkim , to the traditional Bhutia villages in the west and Nepaleses agricultural settlements in the south . Sikkim's flora and fauna include a number of rare species like red panda , the snow leopard and the Himalayan black bear m not to mention a huge variety of brightly coloured rhododendrons and beautiful orchid , which is my personal favourite.
Welcome to Sikkim .. it's waiting to be explored by you .
Gangtok -
Gangtok is the heart or capital of Sikkim , literally meaning 'The town on the hilltop' in the local language . The city is approximately 15 kilometres on the west side of Ranipul river. At an average altitude of 50,000 , Gangtok combines an attractive mix of Old World charm , traditional hospitality and a modern outlook , you will be compelled to stay at least a few days .And it might be that you love it so much you don't want to leave it . Gangtok has tons of Hotels choose wisely and you will enjoy the nature there with good hospitality . Weather in Gangtok can go as high as 28 degrees and as low as 5 degree celsius . Foggy weather just makes me feel like i am in the best town in the world .
A Short walk uphill from Tibetology are two amazing stupas , the Do Drul Chorten , built to tribute the victory of good over evil , and the Jhang Chub chorten , built in the memory of Trulshig Rinpoche , a deeply spiritual individual and famed Buddhist teacher. Near the two giant statues of Budha and Padmasambhava , also known as Guru Rinpoche , who is the patron saint of Sikkim
Inside the Namgyal Institute of Tibetology likes the Chogyal Palden Thondup Namgyal Memorial park which is dedicated to the 12th monarch of Sikkim's Namgyal dynasty . The cable car or Ropeway , you will enjoy the views of Gangtok and a magnificient look of Mount Kanchenjunga if you are lucky enough . Enchey Monastery above the city in a dense forest which offers a spectacular view of Gangtok town . You will see most of the pictures were clicked from here . This monastery is a good place to visit .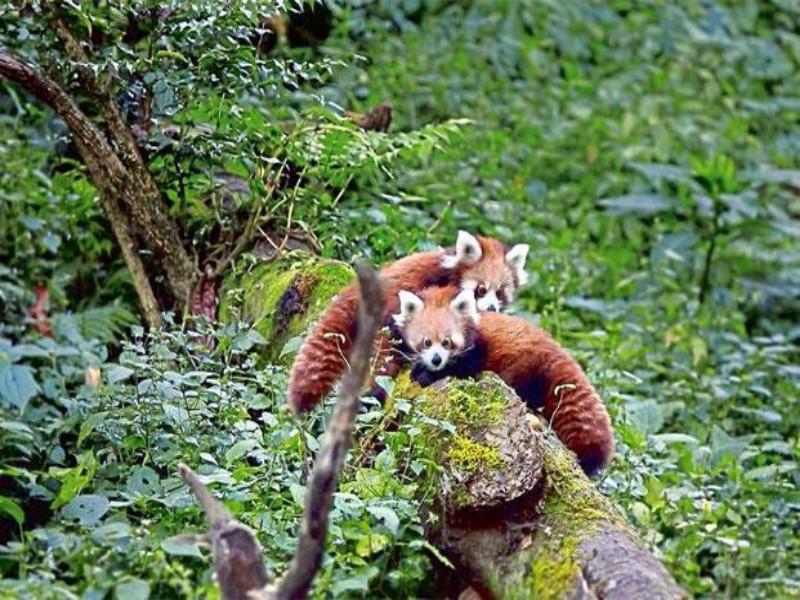 The Himalayan Zoological Park a little uphill in Bulbulay is spread over 205 hectares. At the first zoo to use the 'immersion exhibit technique' in India , endangered animals of the eastern Himalayas live in open enclosures in their natural habitats. Wildlife enthusiasts can observe different species of deer , red panda , Himalayan Black bear , and blue sheep are some of them . The park also gives a good view of hills and Kanchendzonga hill . Kanchendonga means the 'Five Treasures of the Snows' . Tashi View Point is an absolute spot for photography located about 8 kilometres north of Gangtok . You can visit this place right after you get from the Ropeway . On a clearday , you can see the monasteries of Phodong and Labrang . An observatory tower has recently been established, along with a small but well - stocked cafeteria , a small waterfall between Gangtok and Tashi View Point. The small temple at Ganesh Tok is dedicated to the Hindu elephant deity and situated at an altitude of 6500 feet (1981) metres . Along with the temple is the pine forest . A little further down the road is Smirti Ban . This area offers a extended view of Gangtok town , which is just mind chilling and spectacular at the night . The lights of Gangtok are best viewed after dark from the VIP colony .
The Hanuman Tok dedicated to the Hindu deity Hanuman and is situated about 9 kms above Gangtok at an altitude of 7200 feet (2194 metres) . Belief has it that wishes made here will be fulfilled. So we come to the heart of Gangtok , main commercial thoroughare is slightly less than a kilometre in length , M.G (Mahatma Gnadhi) Marg is line with shops, hotels , bars , bakeries , resturants and the Tourism Information Centre, The Lal Bazaar is an mix of sights , sounds , smells and tastes , Although open everyday , Sunday is the traitional 'haat' , or market day , when farmers from around the region come and sell their products . Ranging from fresh cheese and Churpi to bamboo shoots to traditional 'Gundruk' , you will see the culture altogether as one
East Sikkim beyond Gangtok
The inspiring Rumtek Monastery situated 24 kilometres away from Gangtok , it includes the World Dharma Chakra Centre , which is the throne of his highess Gyalwa Karmapa , who is the head of Kagyu order of Tibetan Buddhism . Behind the main monastery is the Karmae Nalanda Institute of Buddhist Studies , which attracts students from over the world . Opposite the entrance of the Institute is a small hall featuring the jewel - studded Golden Stupa, which contains the ashes and remains of His highess 16th Karmapa. Half a kilometre outside Gangtok on the way to Siliguri lies the Ipecac Garden , popularly known as 'Saramsa Gardens' . Named after the medicinal plant which grows there. 35 kilometres away from Gangtok at an altitude if 12,400 feet (3780 metres) you reach the beautiful Tsomgo Lake ,which freezes over in winter and is fed by melting snows from the sorrounding hills. On the way to Tsomgo Lake , you will get the cool breeze of the east . Above the 15th mile Sikkim police check post , you will come across the Kyongnosla Alpine Sanctuary , home of the red panda and the blood pheasant , which are the state animal and bird . Built in the memory of late Baba Harbhajan Singh Memorial Mandir lies between the Nathu La and Jelep La passes.
At an altitude of 14,000 feet , Nathu La can now be visited by local Tourists . This is the highest point in Sikkim that is reahable by car, without extra neccessity of trek. A small health warning to those who are heart patients or having breathing issues , please ask your doctor and then decide to reach out to this point. Now open once again after many decades , visiting the pass is a once in a lifetime exprerince . Form here China is clearly visible . Chinese armed troops are there with red stars on their caps . Visitors are advised to start for Nathu La as early in the day as possible so as to avoid weather changes which typically hops in the afternoon . Kathong Monastery is the 6th oldest monastery in Sikkim , which is rebuilt . The original architectural design built on the location of the old monastery's ruins. It is located about 2 kilometres from Pakyong . This is the only monastery in Sikkim that follows the Kathog tradition of the Nyingma School of Tibetan Buddhism. About half an hour's drive from Gangtok , the ,Sa Ngor Chotsong Centre is the only monastery of the Sakya order of Tibetan Buddhism which was established in 1961 by the Khen Loding Rinpoche . it serves largely to Tibetan refugees and monks .
The Pal Zurumang Kagyu Monastery is located at Lingdum , 45 min drive from Gangtok on the Rumtek -Ranka - Gangtok road . The complex is a fine example of Tibetan monastic architechture , with several levels of sacred rooms staacked against the steep green hillside . The head lama here is Gharwang Rinpoche , 12 the incarnation of Zurmang Gharwang . Located about 20 kms from Gangtok , the Fambhong Lho Wild Life Sanctuary spreads over an area of over 5200 hectares between Singtam and Dikchu . A Small village called Aritar which is 4 hrs drive from Gangtok is a perfect place to experience the rhythms of village life . The Aritar Lake , also called Ghati Tso , welcomes you with its cool blue waters . you can easily spend a night or two in the place . A trekker's hut , a few lodges and a private resort provide accommodation.
North Sikkim
The north is famous for its stunning mountain views and many lakes . Cho Lhamu at 17,000 feet (5181 metres) and Yum Tsho at 16,000 feet (4876 metres) lie in the extreme end of north at the glacier source of Teesta river , while the southeast corner of the district boasts the lakes of Chola , Chokam , Yakla , at heights varying from 10,000 to 15,000 feet. Opened to foreigners in 1993 , North Sikkim with its capital at Mangan has retained its typical Sikkimese Culture and religious traditions . The local Bhutia residents here are soul filled proud of their heritage and tradition . And generally derive their surname from the villages they stay . Lachenpas and Lachungpas from mountain settlements with these names. These comunities continue to rely on Dzumsa , traditional communities to manage and settle local issue much like the Panchayats. They are responsible for maintaining law and order and overseeing grazing , cultivation and the population's seasonal movements. There is nothing much that is done without the permission of the Pipon , the chairman of the Dzumsa village council.
Lachung and Lachen
Monasteries of the North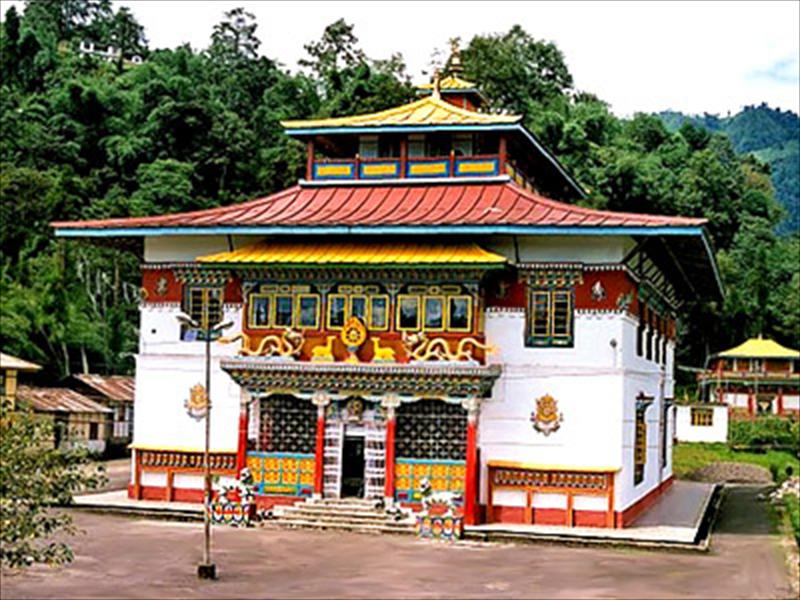 Phensong and Phodong are two of North Sikkim's most beautiful monasteries . Famous of their masked dances on festival days. Situated on a gentle slope streching from Kabi to Phodong , Phensong Monastery was built in 1840 and belongs to the Nyingma order . The name translates as 'the excellent banner' or 'good bliss', and the monastery stands as tribute and testimony to the dedication of its monks , who reconstructed it within a year after in burnt down in 1947. Phodong Monastery , about 38 kms from Gangtok , is recognised for its exquisite mural paintings and frescoes. This moanstery was built by Chogyal Gyurme Namgyal at the beginning of the 18th century in honour of the Karmapa , Phodong was the first Kagyu Monastery to be established in Sikkim.
Labrang Monastery sits sligtly uphill from Phodong . Unlike the other monasteries, which were razed by fires and reconstructed relatively recently, this one is much older and still retains its original design. Literally meaning 'The lamas dwelling'. Near Phodong is Tumlong Monastery , a holy spot said to contain relics of the 17th century lama Lhatsun Chenpo. Tumlong became the third capital of Sikkim in the early 19th century . The palace ruins are now covered with a thick layer of bushes
The famous site of Kabi Lungchok is located just before Phodong , around 20 kms to the northwest of Gangtok . On their heavily garlanded rock , a blood brotherhood was signed between the Lepcha chief Thekong Tek and the Bhutia chief.
West Sikkim
Go west for ancient history , expeditors are recommended to go there. The first Chogyal , or religious king , of Sikkim was crowned in the original capital of Yuksom in the 1640s . A short distance from Yuksom are the ruins of Rabdentse , the second capital of the kingdom. The west is also home to many of Sikkim's oldest and sacred monasteries. The inspiring peaks of Mount Kanchenjunga , Pamdim , Kabru and Narsing , which rise up form the forests of aok , walnut and pine. Khechepalri Lake is the most sacred lake in Sikkim, and is believed to grant the wishes of those who look upon if. Other lakes in this region are Sungmoteng Tso, Lamchho and Kabur Lamchho. West Sikkim boasts at least 47 species of birds and a variety of trees and plants including rhododendrons.
Yuksom is fast developing into a base for tourists. Local families provide lodging, hire out pack animals and work as guides and porters. They also produce delicious potatoes which can be purchased for your trek. The Yuksom to Dzongri trail begins at Yuksom, and has rapidly grown into the most popular trek in Sikkim. The route takes you to Kangchenjunga National Park, Samili L1ke and Goechela pass. Thick, diverse forests envelop you in their fresh and pastery environment, while the cliffs, high alpine meadows and cascading streams provide ideal habitats for flora and fauna of all varieties, making the trek perfect for bird watching and sight seeing around
Places to visit in West Sikkim
First of all is Gayzing (also spelled as Gyalzing , Gyalshing and Gyesing) which means King of fields is now the district capital of West Sikkim . It has a good hospital , a large bazaar and regional government offices , this is the place to take care of all of your administrative and provisioning needs before heading to the remoter parts of the district Pelling is a relatively new settlement that has only recently become a major stopping point for tourists visiting the region. Located centrally with easy access to most of West Sikkim's attractions, you can tour the rugged hills, sacred monasteries and historical ruins by day and sleep comfortably in one of Pelling's many hotels at night Not even 2.5 kilometres away from Pelling Lies Pemayangtse Monastery, at an ,altitude of 6840 feet (2085 metres). Perched on a wooded hilltop, this monastery whose name means 'Perfect Sublime Lotus', indeed offers a sublime view of Kangchenjunga and its foothills. Built during the late 17th century, Pemayangtse is one of the oldest and most important Nyingma monasteries in Sikkim. for generations, monks from this monastery had the exclusive right to anoint the reigning sovereign of the land with holy water, and Sikkim's Chogyals required Pemayangtse'support in order to rule successfully. Only the monks of this monastery, who come from special Bhutia Lineages, are considered to be pure monks of the highest level.
Pemayangtse monastery follows the Mindroling tradition and belongs to the lineage of Lhatsun Chenpo. Tibet's Mindroling monastery was founded by Minling Terchen Gyurme Dorje, whose famous daughter Jetsun Migyur Paldon lived near Pemayangtse and taught there during her exile. You can still see her stone throne in this monastery, which is home to 108 monks (an auspicious number in Tibetan culture). With three floors open to the public, Pemayangtse displays a wealth of Buddhist statues, traditional paintings, ritual texts and wooden masks. On the top floor, you will find the monastery's main attraction, a wooden replica of Zangdog Palri, the celestial abode of Guru Padmasambhava, built by Serdup Lhundrup Dorje Rinpoche in 1971. With extraordinarily detailed woodwork ,and bright colours, it offers a feast for the eyes and spirit. Pemayangtste's annual cham, or religious dances, are held here on the 28th and 29th day ofthe 12th month of the Tibetan lunar calendar. Sangachoeling Monastery (also spelled Sangye Choeling) is located on a hilltop about 2 kilometres from Pelling bazaar, and is Sikkim's second oldest monastely. Constructed by Gyalwa Lhalsun Chenpo in the 17th century, the building maintains its traditional style with wooden floors ,Uld ornate wall paintings. Aroad is under construction to provide direct access to the monastery, but for now you must walk the last half kilometre sleeply uphill. It's well worth the exertion, since when you reach the top you can rda., on a sunny rock and soak up the beautiful view, or even enjoy a cup often at a newly built guest house.
The second capital of Sikkim was at Rabdentse, and the ruins of the fort have been extensively renovated by the Archaeological Survey of India to create a historical site. From the roadside gate, a winding track leads through a forest preserve for almost half a kilometre before you arrive at the ruins of the early town and the royal palace. Looking out in all directions, with sacred chortens nearby, it is easy to understand why ancient kings would have chosen this beautiful sheltered hillside for their fortress. Al 680 feet (207 metres), Shingshore Suspension Bridge is Ihe second highest bridge in Asia, and well worth a visit. Nearby you will find the Khandu Sangphu medicinal halsprings and a sacred cave. The serene Khechepalri Lake (also written as Khecheopalri) Bes in a small valley surrounded by prayer flags and forested hills, and is about 90 minutes drive from Pelling along a bumpy road. Its crystalline waters are said to be wishfulfilling, so take your time and think carefully! The small Khechuperi Monastery lies 1.5 kilometres further on. Yuksom, at an altitude of 5577 feet (1700 metres) was the first capital of Sikkim, and also the site of the first Chogyal's coronation. Traces of his enthronement ceremony still abound in the form ofstone anlphitheatre seats, the footprint of the head lama on a stone and a stone throne constructed for this great event, which still stands at Norbugang and has been declared a Heritage Site. Nearby bes the sacred lake of Kathok Tsho. Localed on a hilltop above Yuksom, at 5580 feet (1701 metres), stands Dubdi Monastery, the earliest religions institution established after the first Chogyal's enthronement. Dubdi means 'the hermit's cell, and this site surrounded by verdant forests is indeed an ideal place for meditation.
At 13,123 feet (4000 metres), the alpine pasture of Dzongri has breathtaking views ofthe mountains. The journey here from Yuksom is the most popular trek in Sikkim, with awinding route that passes through almost entirely uninhabited pristine forests, past seasonal yak herding settlements and even remote village monasteries. Orchids grow in abundance around Bakhim and Tshoka, the last village on this trekking route. The route from Tshoka to Dzongri is lined with rhododendron and silverfir. From Dzongri to Thangshing, you trek through the Onglathang Valley, which is of special interest to bird watchers since a quarter of all bird species found in the Indian subcontinent have been spotted here. The camp ground at Thangshing is located in a vast, open valley by the side of the glacial lake of Samiti. Finally, you reach the last camp at Zemathang at 15,000 feet (4572 metres), from which you can see Goecha Peak to the north and the splendid pinnacle of Mount Pandim with its glaciers and icefalls to the northeast.
This region is the natural habitat of the bharal (blue sheep) and snow leopard if yor are lucky and patient you may get a glimpse of all of these rare creatures. Sikkim's most sacred monastery of Tashiding is perched atop a conical hill. A mere glance at the Thongwa Rongdol Chorten here is believed to absolve you of all sins. Founded around 1716, Tashiding was believed to be the heart of Bayul Demoshong, the 'hidden fruitful valley'. During the famous 'Bumchu' festival, a bumpa, or vessel containing holy water, is opened and a small quantity distributed to the devout. The contents ofthe vessel date back to the 7th century, when Guru Rinpoche is said to have stored sacred soil, water and precious jewels in it from all ofthe holy places in India. Each year, the waterlevel is checked as an indicator ofthe times ahead. The Darsey Rhododendron Sanctuary is one of five wildlife sanctuaries where you can view all enonnous variety of rhododendrons, in addition to many medicinal herbs and plants. Rinchenpong is the base for treks to the Barsey Rhododendron Sanctuary and the Sillgalila Range. The panaromic views of Kanchenjunga from here are just unrapped over.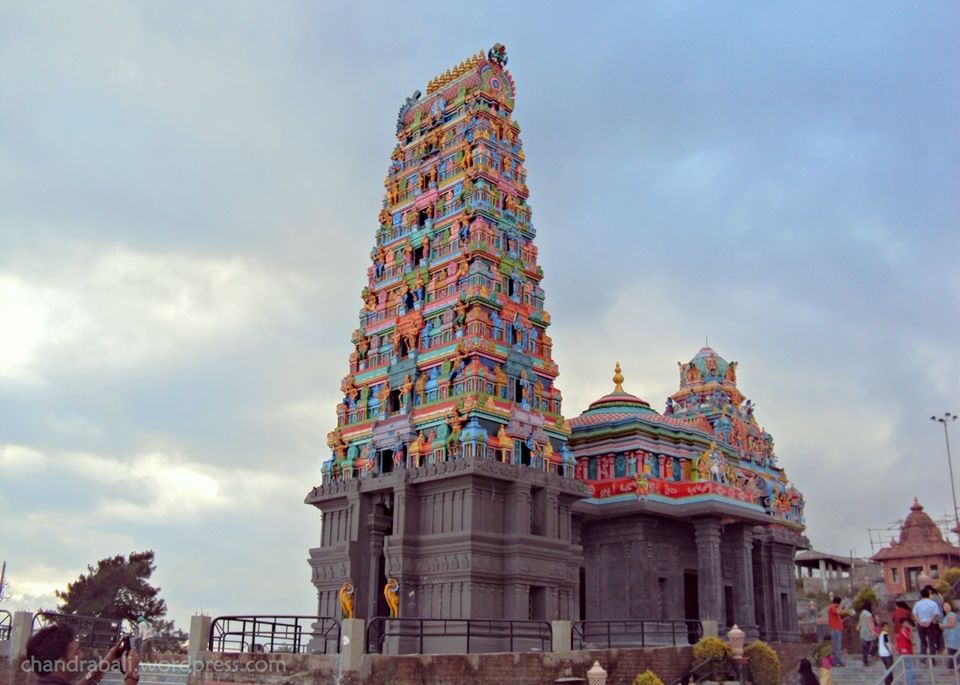 South Sikkim
Namchi , the district headquarters, is a well laid-out township about 78 kilometres from Gangtok. On the hill of Samdruptse, 7 kilometres above Namchi, stands the popular 135 foot-high statue of Guru Padmasambhava the highest of its kind in the world. There are also several major monasteries near Namchi, such as Ngadak Monastery and the ramang community's Ahlay Monastery. Just above Ngadak Monastery, around 6 kilometres from the town of Namchi, you will find the arificially created Rock Garden, which is home to rare flowers, orchids and timbur, a sour citrus fruit with medicinal properties for the liver and chest congestion. The garden also has a children's playground, which is among the highest in the world. The State Biodiversity Park and Medicinal Plants and Herbal Garden lies 14 kilometres north of Namchi, and is the first of its kind anywhere in India. Here you can visit both the conservation unit for sub-tropical and temperate flora and fauna of the state and the centre for nature education, awareness and recreation.
Ravangla (also called Rabong) stands at 6800 feet (2072 metres) and straddles the ridge between Maenam and Tendong, and serves as the sub-divisional headquarters of South Sikkim district. This pleasant little town and its surrounding villages come alive during the Pang Lhabsol celebrations, when locals perform the spectacular Warrior Dance at Mani Chokarling Monastery in honour of the guardian deity of Sikkim. Just above the town is a Tibetan Refugee Settlement Camp, where you can buy fine Tibetan-style wool carpets at the Kunpheling Carpet Center. 8 kilometres out of Ravangla at Damthang is a perfect sunrise viewpoint, where you can see the first rays of the sun touch the snowy peaks of Narsing,Jopuno, Kabur, Rathong and Pandim. Heading towards Namchi from Singtam, you pass through miles and miles of green tea bushes belonging to the organic Temi Tea Estate, Sikkim's only tea garden. Established in the 1960's by Chogyal Palden Thondup Namgyal, the tea produced here has a rare combination of liquor and flavour and fetches some of the highest rates on the international market. You can observe the tea being processed and purchase some leaves for yourself at the factory, located 18 kilometres from Ravangla
Tinkitam is a quaint Sikkimese village 6 kilometres from Ravangla, which is the natural habitat of paphiopedilum faireanum or lady's slipper, a rare species of orchid. Unlike most wild orchids which grow on trees, this orchid is terrestrial and flowers in October and November. Karma Rabtenling Monastery was built in 1768 at Ralong, 13 kilometres from Ravangla. Legend has it that the 12th Karmapa, head of the Kagyu sect of Tibetan Buddhism, gave his blessings by throwing some grains ofrice from Tibet, and the monastery was built on the site where they landed. Pang Lhabsol and Kagye masked dances are held here every year. Just by the side is a new monastery, Palchen Choeling Monastic Institute, which was built by the 12th Gyaltsab Rinpoche in 1995. The sacred Mahakala Dance is performed here every November. Ralong, Legship and Borong all have tsa chu, or hot sulphur springs, which are used as traditional spas by locals as well as by visitors from Nepal and Bhutan. These springs have medicinal properties believed to cure many ailments of the skin, joints, bones and muscles. For overnightstays, temporary huts are available at nominal rates
The Bon Monastery at Kewzing, 5 kilometres from Ravangla, is the only one of its kind in Sikkim. It is a symbol ofthe determination of this minority Tibetan community, which follows pre-Buddhist traditions, to preserve their own identity. 2 kilometres away from Kewzing bazaar is the Mangbru Gompa, which follows the Nyingma seci of Buddhism. The invading Bhutanese anny used this as a strategic point in the 19th century, and the ruins of their bunkers and outposts can still be seen here. The dam built across the Rangit River has created a unique body of water known as Rangit Water World. Situated 26 kilometres downhill from Ravangla, it is an ideal place to enjoy boating, rafting, fishing and SWimming. Meanam Peak (10,600 feet/3230 metres) is a 12 kilometre uphill trek from Ravangla. The route winds through a thick forest of oak, chestnut, magnolia and rhododendron. As the natural habitat of the red panda, Himalayan black bear, and barking and musk deer, this area is designated as a wildlife sanctuary. Ashort ways above Yangang Village, you can visit the legendary 'Bhale Dunga', a rocky spur resembling a rooster's comb. The name of Tendong Hill (8,500 feet/2590 metres) means 'upraised horn' in Lepcha. According 10 legend, the horn-shaped Tendong Hill rose out ofthe water during a great flood 10 save the Lepchas. Every year at the beginning of the monsoon, locals gather on this hilltop to pray that such a calamity does not recur. Spectacular panoramic views of Sikkim and the distant plains of Bengal reward those who brave the climb up the hill.